About Geetanjali
'Geetanjali' - The magic of dance with beauty
Canonized as the pride of 'Braj', Geetanjali is an actor,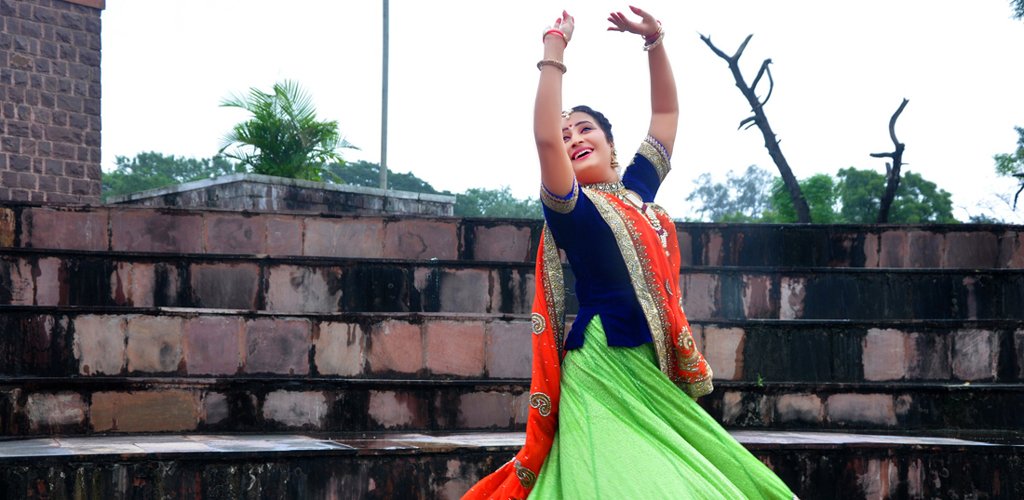 trained by Anupam Kher's institute of acting, she is a renowned Folk Exponent and a classical dancer who resides in Braj Mathura and is training for Kathak in Mumbai. Geetanjali Sharma is a Kathak dancer of Jaipur Gharana and a senior disciple of Guru Uma Dogra. Being an internationally renowned Kathak dancer at par excellence exudes a lot of positive vibrations and energy. She is recognized for artistry, eloquence and spirituality in her presentations. She is known as the eternal Radha of Braj who has devoted her life to uplift the art of Braj. At a tender age Geetanjali has gained such a repute that it is hard and virtually almost impossible to talk about the 'Mayur Raas' or the 'Holi of Braj' without mentioning her name.
The sparks of her talent in dance were seen right from her childhood when she started dancing during her school days. Initially she performed without any formal training and guru yet she tried hard to add a new element in her versatile performances. She chose to minutely study every step concerning costumes, make up, jewelry, etc. to make her performance powerful and alive.
The start of her dancing career met with many hurdles. In spite of being at a tender age, she faced family hardships and received no support from the society. However, she still managed to continue with her hobby and came a long way in her profession. It was really hard for her to go against the mindset of the society but her hard work and dedication changed the outlook of many in the society about dance. She always says that with her art she wants to bring peace and happiness in this world.
Her performances have always been highly appreciated by her audience. While she assumes the being of Radha and appears on the stage to give meaning to the same, the spectators are simply carried away with the ecstatic performance. The performance has the power to mesmerize the audience and make them believe in the character of Radha.
Starting from her performances at school she has now entered International arena. She has performed not only in our country but in foreign countries also and earned name and fame. The numerous performances across India, UK, Mexico, China and many other countries have been enchanting. In India she has performed at Khajuraho festival, Lucknow festival, Taj Mahotsav, Badal Raag, Pt. Durga Lal festival, Jhansi Mahotsav, Swami Haridas Mahotsav, Common Wealth Games and many more. Over all she has performed in more than 1500 shows across the globe. Her performances have won her many honors and awards. At home she has been awarded with Yash Bharti Samman in Lucknow, by Government of Uttar Pradesh in 2015. She was honored with Ustaad Bismillah khan Award in New Delhi, by Sangeet Natak Academy in 2011. In 2010 she received National Youth Award. Her talent has also made winner of 'Nazneen-e- Taj' and 'Miss U.P. Talent award' in 2003. And,in 2002 her performance enticed every guest at the Prime Minister House and got appreciations and Blessings from our former Prime Minister Atal Bihari Vajpayee Ji.
In 2006, she was honoured by the Prime Minister & former CM of Gujarat Shri Narendra Modi ji.
In 2008, she was honoured by the governor of Chhattisgarh shri E.S.L. Narasimhan ji.
In 2015, she was honoured by lieutenant governor of Port Blair Shri A K singh ji.
In 2016 she was honoured by dy, chief minister of Bihar.
It is through these performances that she has been able to prove the power of Folk arts and that these arts can be taken to new heights. After her expert training, she has almost trained 2500 students through Lokdhara program and personal workshops. Her belief in folk dance form is immense and that's what drives her on the success plateau.
When she showed interest in being a dancer, she did not have any role model before her to follow. If at all she had anything it was books, education from her mother and her feelings and emotions for Radha; and that has inspired her into success. Today many boys and girls, aspiring for success, take inspiration from her and she is always ready and eager to help and support their career. She has provided stage and employment to many senior and junior artists from Braj. She provides free training and polishes the talent hidden in the newcomers to this field. Geetanjali also has different side that projects her as an active social worker. She strongly believes that the sacred duty of an artist is to serve nature and humanity. She is a personality that is dedicated towards her art as well as who is loyal towards her civil responsibilities. With her sincere endeavors she is successful at inspiring people around the world.